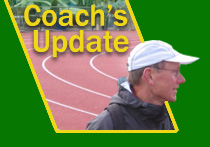 7-28-2014
Marathon...half...Hershey me not you
We were well represented in the Eugene Marathon and Half this morning, by Club members and alumni. Check out our results below!

I'm going to Hershey PA on Thursday to do a webcast of the Hershey North American Championships on Saturday with Dan O'Brien. We will only meet Monday through Wednesday this week. Because of the hot weather, we'll start at 8:30am.

Stick with your gradual increases in minutes or miles. It's not quite time to start doing higher quality work! Next week you'll get suggestions for a bit of faster running.

I got drafted to announce the hammer throw at the World Junior Championships which end this afternoon. So, I "preached to the choir" for five straight days on the outer field behind the Hayward scoreboard. East European names are tough!

The east grandstand has been filled with boisterous national teams from all over the world. Raucous! Eugene is the perfect place for this meet. It's like the state high school championships…for 166 countries!

We keep adding newcomers…


In this morning's Eugene Marathon, Kevin Cave finished 13th of 1,101 runners in 2:36:58. Renee Gordon ran 3:27:34.

Rui Yong Soh broke his own Club record in the half-marathon, in 1:08:15 finishing 8th of 1,925 runners. New Club member Cereescia Sandoval ran 1:52:31. She was 171st of 1,200 women.

Among our alums in the half, Annie Brandjord PR'ed in 1:39:31 (60th), Bobbi Jo Annal did 1:41:51 (73rd), and Amanda Husted ran 1:47:20 (120th).

In the 5km road race on Saturday, a high school runner from New Jersey, Robert Petterson, who bought one of our singlets, finished second wearing the "O", in 15:57. Carolyn Gilchriese ran her second race since a knee operation, finishing in 22:41.

The marathon and half started at 6am.

If I missed you, sorry, there were a lot of runners out there!


This week we'll meet at 8:30am, Monday through Wednesday, July 28-31, beginning at my house. I'll be out of town on Thursday and Friday.

I live at 1012 E. 21st Avenue. That's on the corner of 21st and Harris, two blocks west of University Street.

If you ride your bike to my house, please bring a lock. I'll be riding my bike as you run, so there won't be anyone to watch your bike. You can leave bags, shirts, phones inside the house if needed.


Next Wednesday, July 30, we have our last kids' all-comers meet, so I'm looking for help in the 7-8-9 year olds' long jump one more time. We start at 5:30pm.

heino@uoregon.edu


Our list of new Club members for next fall grows! Here are two more:

Erin Herting
frosh, Monte Vista HS CA
erinherting@gmail.com

Emma Decker
soph transfer
emm.decker@gmail.com


Our 17 "old" newcomers:

Trevor Soucy
frosh, Springfield HS
soucy.trevor@gmail.com

Mike Matuszak
PhD student Economics, North Central College
mtmatuszak@gmail.com

Nick Tremonti
ntremonti@gmail.com

Ron Desisa
frosh
ron.desisa@gmail.com

Robbie Ellis
frosh, Tualatin
hurdler, long and short, relay runner
robbie.ellis@rocketmail.com

Sarah Stubblefield
frosh, Southwest Christian (Portland)
800m, 1500m
96smileyface@live.com

Brandon Sov
frosh, South Eugene
brandonsov@gmail.com

Mackenzie McConnell
UO soph, Cottage Grove
kenzie.jane331@gmail.com

Jacque Greazzo
frosh, Pinkerton Academy, New Hampshire
sprinter, heptathlete
JGreazzo73@yahoo.com

Brent Lessley
UO soph from Puyallup WA
blessley@uoregon.edu

Josh Christensen
grad student
jchrist2@uoregon.edu

Cereescia Sandoval
grad student
cns@uoregon.edu

Mandi Jasmin
UO soph from Lake Oswego
mjasmin@uoregon.edu

Krissy Sonniksen
grad student, Portland
k.a.sonniks@gmail.com

Isaac Gibson
frosh, San Antonio TX
irgibson95@gmail.com

Blake Chiuminetta
frosh, Dripping Springs TX
chiuminetta3@aol.com

Sara Bagnell
frosh, Point Loma HS, San Diego
sarabagell@gmail.com




Some of you count miles, some of you don't. This is the time of year when most runners preparing for cross country do easy-paced, steady runs in gradually increasing amounts.

These runs establish an aerobic base, build muscular endurance, and toughen connective tissue (tendons, ligaments, cartilage). The intensity stays low as the volume increases.

If you're starting your buildup of volume, and you want to count weekly miles, here are two ways to progress:

Plateau method: 30-30-35-35-41-41-48-48-56-56
--a gradual increase, but with plateaus to "consolidate your gains" and be sure that you're ready for the next step up. Jack Daniels suggests three-week plateaus, with slightly bigger jumps.

Dropback method: 30-36-42-36-42-49-42-49-57-49
--you build up two weeks then drop back for one week. The progress seems slow but the chance of being hurt or worn out is small.

There are 10 weeks until fall term starts on September 29 and 17 weeks until NIRCA Nationals in cross country.

Can you accumulate a slightly greater volume of running this summer than you've done before?

You can build from whatever volume you are doing now to some amount that, for you, is a lot. Hit your high mileage in early or mid-September. Get some work done, and arrive in the fall feeling that you're well prepared...ready to do hard days twice a week in late September, and a long run on the weekend.

But don't be a slave to mileage! There is virtue in rest. And it's better to not risk a blowup. If you get five or six days in week a week exactly as you want them, that's a pretty high success ratio. It's better to get to Eugene in the fall healthy and ready, than to have gone over the edge by pushing too hard.

Plan to arrive here in the fall ready to start a season. I'll give you sample workouts later this summer so that you can build up to full workouts by late September. It's too soon now, though.

'Need strides...a bit of faster running? Look below.

If you have specific questions now, email me at .


Are you a non-counter? 'Like to run, but don't like to count miles? That works!

If you want to run some cross country or road races in the fall, just try to get out the door most days for a run. Go whatever pace feels good. Keep the routes varied. Find someone to run with.

Running without counting and timing can be fun and rewarding. And you'll end up running farther and faster over the summer, without trying to.

Come back to Eugene in September, fresh and ready for an enjoyable fall!


July is the time to start your training buildup if you plan to run cross country in the fall. There is still time. Don't rush it. Most of you already have been running recreationally for several weeks.

Do you know how many miles or minutes you ran last week? Try to run five miles farther this week...or 6-9 minutes most days. Or, you can do a week that feels about the same, but add one more run sometime during the week.

I'd like you all to do gradual increases during July and August. Each week doesn't need to be more than the previous. You can increase for two or three weeks, then take a light week for recovery.

Don't try to run faster. Just run a little farther, but not everyday. You can build your aerobic base now...and do some faster running later this summer.

If you want to do relaxed strides on a soft surface occasionally after a run, that's fine. Not hard strides...relaxed strides...flowing, feeling good. If you have a good, grassy surface, run some of them barefooted. Synthetic fields are great for summertime barefoot strides! Five or six is just right for now.

If you have access to your high school team or any club, feel free to run with them! They might be trying to get ready for a season which starts several weeks before ours, though, so be thoughtful. Just tag along and enjoy their company. If you run with your high school team, maybe you can add wisdom as a graduated senior.

Our first good chance to race is usually two weekends before school. It's a very low-key meet here in Eugene at Lane Community College, the Northwest Classic...a big high school meet, but a very small college meet

It is still 8-9 weeks until that meet! That's a long time. So, start your buildup slowly.


Have you found an activity or two that you really enjoy? Get on a team if you can, any sport is okay. Or find someone to ride with, run with, skate with, hike with, kayak with...

We had a great training group last spring. You were better prepared than our previous groups and there were fewer injuries than ever. Much of that was because people trained together earlier. And we had more talent! The records show it.

You don't need to train this summer. Your job is to be really active and have fun! And come back to school ready to do some training.


Training theorists generally say that in your training buildup you shouldn't increase by more than 10% of your previous weekly total. Five miles per week is probably safe, as long as you are willing to take a lighter week when you feel tired.

Jack Daniels, who will be in Eugene tomorrow, suggests holding a mileage level for three weeks, then bumping it up by the number of running sessions you do per week. So, if you have been doing 40 miles per week in six sessions (a total of six training runs in the week), then you can add six miles to your weekly total. Maintain it for three weeks, then go up again.

That plateau method will probably work with just two weeks at any mileage level, but be careful! Rest and easier weeks can really help you if you're feeling tired!

Three other less-than-stellar training plans are:

a) the blow up plan
b) the down-the-drain plan
c) the I-forgot-to-train plan

=========
'See you,
Tom Heinonen
coach
---
← Previous item | Next item →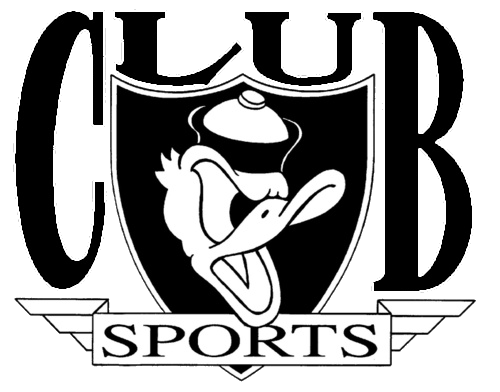 UO Running Club provides the opportunity for students to get together to run, train and race. Most of our sessions are steady runs. A couple of days each week we offer harder training sessions (intervals, repetitions, hills, tempo runs, cruise intervals).

The club is coached by Tom Heinonen, a member of the US Track and Field and Cross Country Hall of Fame who coached the University of Oregon women for nearly three decades. In his time coaching the women, he transformed the team from a brand new program into a NCAA powerhouse. He retired in 2003 to start the club and has been coaching it since.

In the Fall, we compete in collegiate cross country races throughout Oregon, then finish our season at the NIRCA Championships, where we face other college clubs. In the Spring, we enter in collegiate track meets. Several of our runners earn the opportunity to race at Hayward Field throughout the year. There are road races throughout the year.

We have a wide range of talent and commitment levels, from recreational runners to All-Americans.

Club members receive an e-mailed workout schedule for the following week every Sunday. There is no fee to join the club.

All running sessions are optional. To join, just show up to one of the practices or contact one of us.

The Running Club is a great way to get together with students and to enjoy running!